Discover more from MadeMeThink
Curated Content for Visionaries, Innovators and Critical Thinkers Exploring the World of Tomorrow.
WebSummit 2023 Takeaways & Exploring Lisbon
This week I attended the WebSummit in Lisbon, together with 70236 other participants. The WebSummit is one of my favourite events in Europe. Here are a few thoughts & impressions I took away with me.
This is MadeMeThink.xyz – A weekly newsletter for visionaries, innovators and critical thinkers exploring the world of tomorrow. Written by Prof. Thomas Metzler, Ph.D.
This MadeMeThink last week…
WebSummit 2023
This week I attended the WebSummit in Lisbon, together with 70236 other participants (of which about 500 were from Austria). The WebSummit is one of my favourite events in Europe. Here are a few thoughts and impressions I took away with me.
WebSummit Keynotes
In case you couldn't be at the WebSummit yourself, there is a video recording of the Main Stage, where the best talks are anyway. On the first day, there were several talks on the Main Stage on the topic of AI. MIT Scientist and Author Andrew McAfee, for example, talked about the regulation of AI and spoke in favour of not regulating too much. He referred to this as "permissionless innovation". I wrote an article a few months ago with thoughts on this, as Europe is a leader in the field of regulation (keyword: Precautionary Principle). I normally like the American approach, which goes in the direction of "permissionless innovation", but I have not yet reached a conclusive opinion on this with AI. Albert Wenger (Managing Partner Union Square Ventures), who spoke after McAfee, was rather critical of his thoughts on "permissionless innovation vs. upstream governance", especially the division of people into two categories, for or against regulation, which he considered to be too much black and white thinking.
WebSummit Startup Expo
In addition to the conference, there is also a large expo at WebSummit. Many countries and tech companies exhibit here. There were 2608 startups represented at the WebSummit. I also took part in the WebSummit Alpha programme this year with WalletFrens.xyz. At WebSummit, startups get small booth spaces (1 square metre). The startups that exhibit change daily, which makes it interesting for the visitors (and honestly, after one day of standing at the booth, you also have enough of it as a startup). If you're curious about what startups were at this year's WebSummit, some of them are featured here. This year's annual startup competition was won by Brazilian startup Inspira, which has built an AI assistant in the legal sector.
Many of the exhibitors came up with funny ideas. One booth had a "Slide for Innovation". I thought it would be a good idea to slide down there. Note to myself: If you're 1.90 metres tall and a slide makes two bends at a height of 2 metres, it's better not to slide 😅🙈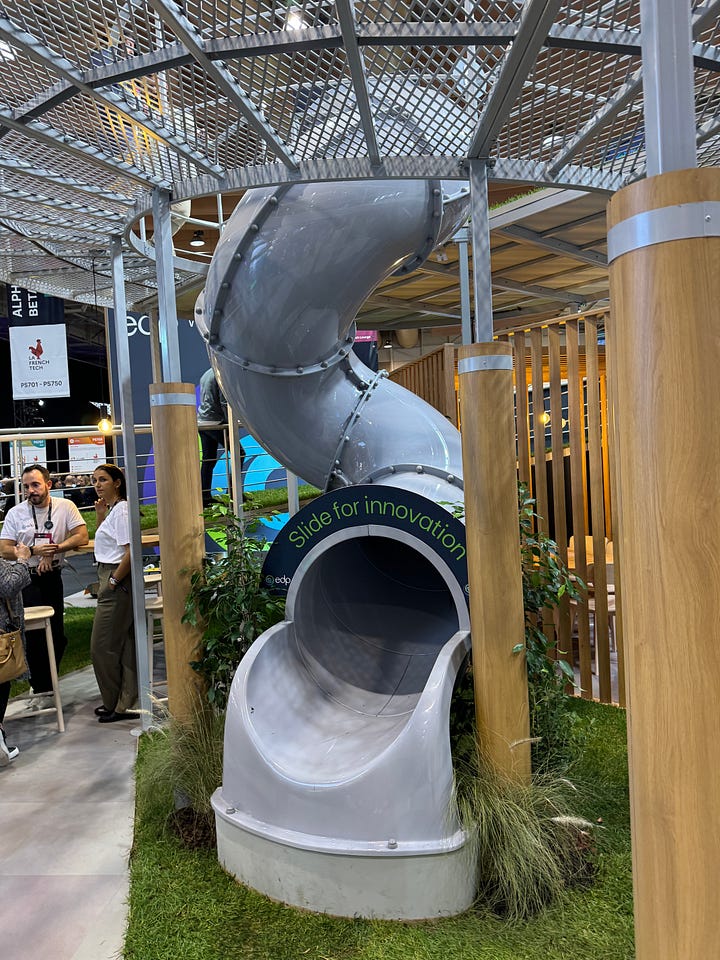 WebSummit Panel Discussion on Nordic Innovation
I also spoke at WebSummit on a panel on Nordic Innovation and shared my thoughts on the Estonian and Finnish innovation and startup ecosystem. My statements were mainly based on my recently published article on this topic, if you haven't read it yet, you can find more about the Estonian and Finnish innovation and startup ecosystems here.
Networking at WebSummit
The WebSummit is not only about content, but also about networking. There are lots of side events. I attended a few side events organised by Adantage Austria this year. One evening we were with the Austrian ambassador in Portugal, another evening at the Austrian Night. The event was so well attended (around 500 people) that not everyone made it in. We were lucky that Markus Gwiggner from Styleflasher was able to get us in 😎🙌 Here are a few more impressions from the Advantage Austria events / the Advantage Austria booth at Websummit Expo...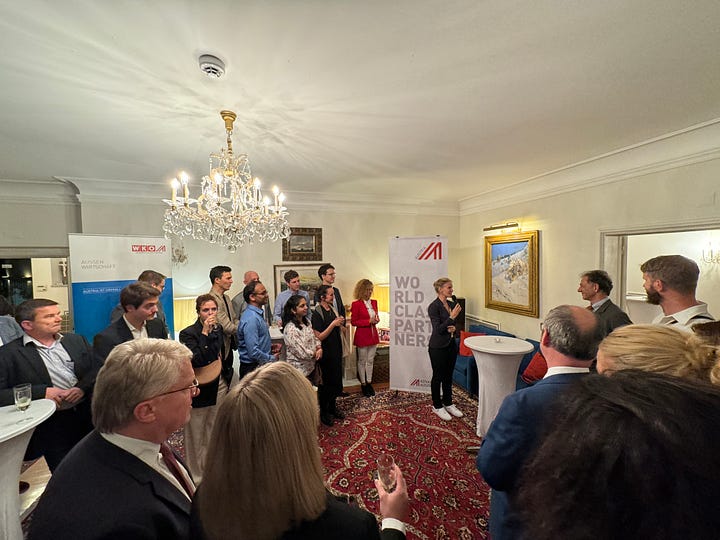 Innovation Map
At the Austria Night evening event, the innovation map was presented, a new tool that the Austrian Federal Economic Chamber has created in cooperation with researchers and experts and which presents 105 groundbreaking technologies. It's interesting to click through, take a look (there is a German & English version).
Big Wave Surfing in Nazaré
There were also presentations and discussions at the Austrian booth. Austrian big wave surfer Alex Wippel was for example doing a talk. He surfs the waves in Nazaré, which can reach enormous heights. The biggest wave ever surfed in Nazaré was 26.21 metres high (see video below) 👀.
It was interesting to talk to Alex a bit about big wave surfing. I liked his thought that surfing such waves is all about risk management. In this harsh environment, surfing has developed from an individual to a team sport. Alex has a team of five people who go into the waves with him every day. In the event of a fall, there is a 30-second window of opportunity to save the surfer's life. Because it is literally a matter of life and death, Alex also has two people as rescuers in case one of them falls.
Night Summit
The official evening event of the WebSummit is called Night Summit and takes place every evening at different locations. It is definitely a nice event, but long queues at the entrance and at the bars are guaranteed.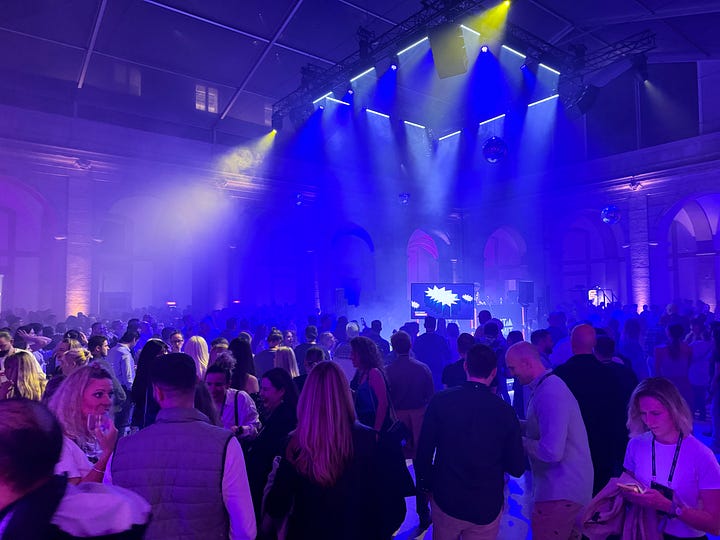 Bold Community Meetup
We also attended an event organized by the Bold Community, a community that brings "bold minds" together. We had some good conversations there. I'll take a closer look at the Bold Community, it sounds interesting...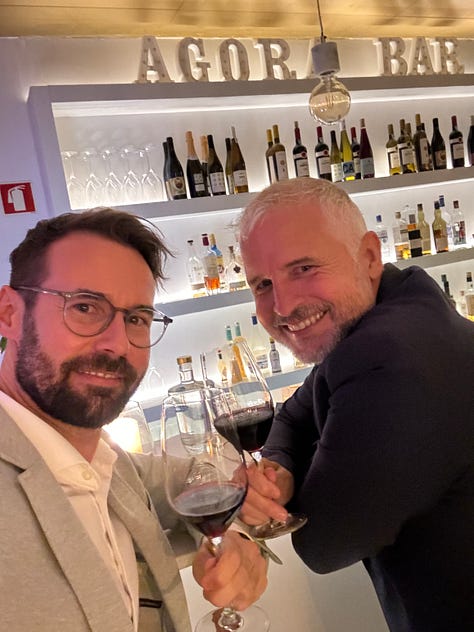 Culinary delights in Lisbon
The food (and wine) in Lisbon is fantastic, so there's nothing more to say, just a few pictures to share. If you're ever in Lisbon, the Sala de Corte is well worth a visit, it was ranked as one of the best 101 steak restaurants in the world.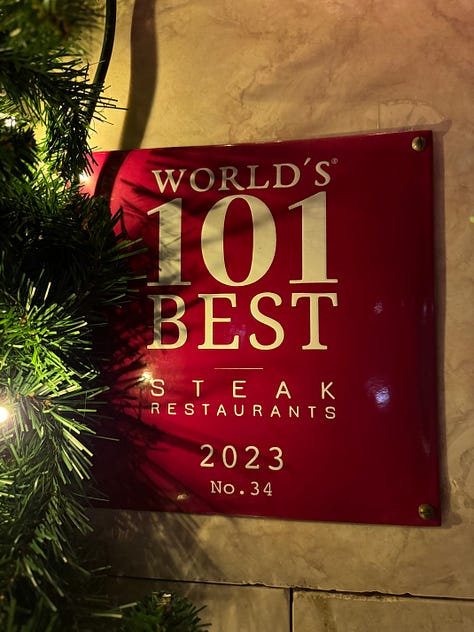 A few more impressions from Lisbon and the WebSummit…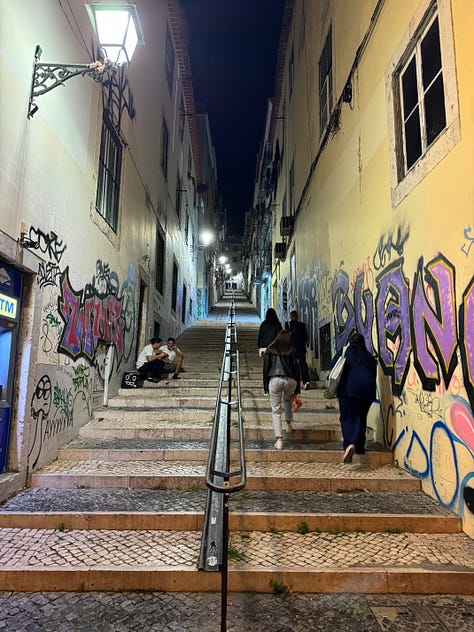 Disclaimer: The thoughts published in this publication are my personal opinion and should not be considered as investment advice or a recommendation for any type of action. I am not a financial expert. The startups or corporates highlighted in the newsletter have caught my interest. This mention is not an endorsement or recommendation to engage with them. Readers should always do their own research.