Discover more from MadeMeThink
Curated Content for Visionaries, Innovators and Critical Thinkers Exploring the World of Tomorrow.
Why Speculation is Bad for Communities + WalletFrens Genesis NFT
My last week was all about Web3 / NFTs…
This is MadeMeThink.xyz – A weekly newsletter focused on the intersection of disruptive technologies, business, and society, curated for visionaries, innovators, and critical thinkers navigating tomorrow's landscape. Written by Prof. Thomas Metzler, Ph.D.
This MadeMeThink last week…
My last week was all about Web3 / NFTs…
Why Speculation is Bad for Communities
At the recent Berlin Blockchain Week, I had the privilege of delivering a keynote at an event organized by NFT Lab Berlin. My talk highlighted the enriching experiences I've had in the NFT space, particularly the deep connections and tight-knit communities I've witnessed. However, I also took the opportunity to address some pitfalls of the NFT space. One of my main theses was that speculation within the NFT ecosystem can undermine the foundations of communities.
To illustrate, let's take an NFT community that revolves around a passion for Japanese manga movies. Here, NFTs are used as a key to meetings, discussions, and shared community experiences. However, when the price of these limited NFTs skyrockets, they capture the attention of investors who are driven solely by potential financial gains and have no real interest in the community's core subject, Japanese manga.
With each NFT that investors buy up, a genuine manga enthusiast leaves the community, no longer has a key to the events and discussions, and consequently can no longer participate. Over time, the community is thinned out, there are fewer and fewer members who are truly interested in the subject, which leads to the original benefits of the community becoming less and less, leading to its slow decline.
This is an example of the destructive power of unchecked speculation. It is a call to action for the NFT space to rethink its priorities. Instead of perpetuating speculative tendencies, we should consider open editions, fixed prices, soulbound tokens or completely new solutions. It's important for new projects to innovate and find ways to use NFTs in ways that truly enrich their communities, rather than dilute them. New projects shouldn't repeat the same patterns over and over again, but should break new ground!
Here you can find some more impressions from my trip to Berlin...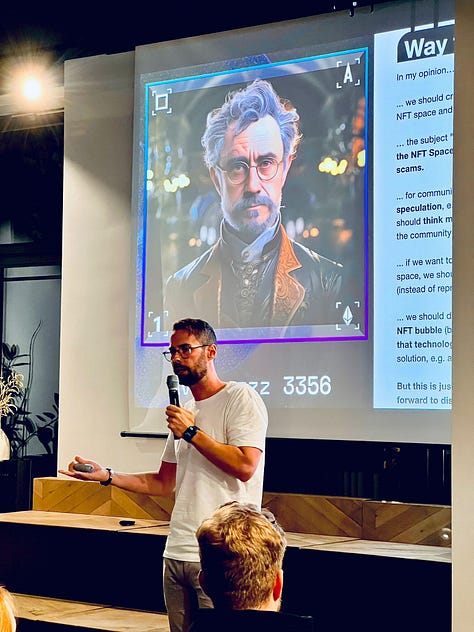 WalletFrens Genesis NFT
I am excited to announce the mint of our WalletFrens Genesis NFTs. Our Genesis NFTs were distributed to all early supporters of WalletFrens.xyz (my side hustle). This unique token not only signifies our appreciation, but it will also hold utility in future.
Distributing an NFT to early supporters is a strategic way for projects to express gratitude and foster loyalty. Such tokens can serve multiple purposes: they can act as collectible badges of honor, signaling early adoption and support. Moreover, they can be integrated with token gating mechanisms, allowing holders exclusive access to content, events, or specific privileges within a platform. In essence, these NFTs can become keys, unlocking unique experiences and benefits for their holders.
We will be doing a second Genesis NFT drop for all backers who help us bring some attention to WalletFrens. Read more here.
Disclaimer: The thoughts published in this publication are my personal opinion and should not be considered as investment advice or a recommendation for any type of action. I am not a financial expert. The startups or corporates highlighted in the newsletter have caught my interest. This mention is not an endorsement or recommendation to engage with them. Readers should always do their own research.