Discover more from MadeMeThink
Curated Content for Visionaries, Innovators and Critical Thinkers Exploring the World of Tomorrow.
Be Rich or be King / OpenAI DevDay & GPT Wrapper Startups / WebSummit23
Read what made me think in week 45/ 2023...
This is MadeMeThink.xyz – A weekly newsletter for visionaries, innovators and critical thinkers exploring the world of tomorrow. Written by Prof. Thomas Metzler, Ph.D.
This MadeMeThink last week…
After my longer articles on the innovation and start-up ecosystems in Finland and Estonia, this week's edition of MadeMeThink is a short one.
Be Rich or be King?
This week I gave a talk on "Small Bets, Big Bets - Or Ways to Get a Piece of the Cake" for the Entrepreneurship Centre at the University of Graz. I spoke about various strategies that start-ups can use to get their piece of the cake.
I quoted the Harvard Business Review article by Noah Wassermann, in which he says that founders have to decide whether:
You want to be rich or king?
In other words, in most cases, founders have to decide whether they want to keep the majority of the shares and thus be able to make all the decisions themselves, therefore being king, OR whether they want to hand over shares to investors, buy in growth and then, at the end of the day, be minor shareholders of a big company, therefore being rich.
I came across the image below on Linkedin, which nicely illustrates the process of how equity stakes are distributed over different investment rounds.
A painful week for chat GPT wrapper startups…
For startup founders the recent OpenAI update to ChatGPT serves as a stark reminder of the risks involved in building a business on top of the technology of another company. The introduction of a feature in ChatGPT allowing users to upload and analyse PDFs directly has rendered several startups' unique services obsolete (read more). In this respect, always keep it in mind:
"Before your adrenaline rush for a shiny startup idea, ask yourself this: Can OpenAI/Anthropic/Microsoft add this feature with 3 engineers in a hackathon? The number of "yes" to the above is astounding. Happy Halloween in the thin wrapper graveyard." - Jim Fan, NVIDIA Senior AI Scientist, on X.
Read more about the first OpenAI developer conference here or watch it on YouTube…
WebSummit 2023…
Next week Tuesday (14 November), 1-145 pm, I will have the pleasure of taking part in a panel discussion at WebSummit on the topic of innovation in nordic countries (come by: Austria Stand E412) 💯 Mikolaj Norek from Advantage Austria read my articles about the innovation/startup ecosystem in Finland and Estonia and invited me to join the discussion, thanks for that Mikolaj! 🙏
If you are a MadeMeThink reader and are also at the WebSummit, drop me a line and we can meet up for a coffee / exchange of thoughts.
I also created some meme stickers for my newsletter MadeMeThink with the idea of bringing them to the Websummit... below you find my favourite creation 😅😅 But in the end I decided to make a simple business card with my URL and a short description on it... but I think I'll have to print the sticker at some point anyway - what do you think? 😂 🤷‍♂️ I was surprised how easy and cheap it is to make a business card these days... 5000 cards = approx. 60 euros 👀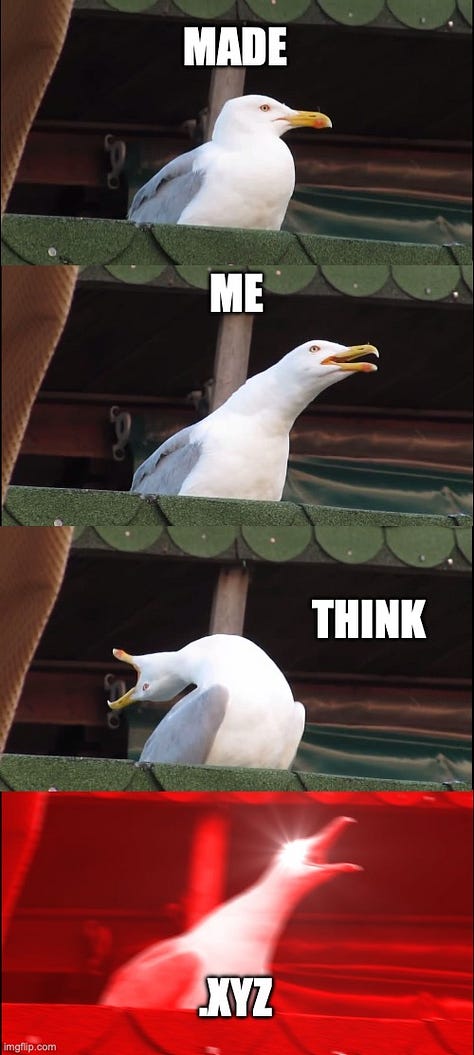 Disclaimer: The thoughts published in this publication are my personal opinion and should not be considered as investment advice or a recommendation for any type of action. I am not a financial expert. The startups or corporates highlighted in the newsletter have caught my interest. This mention is not an endorsement or recommendation to engage with them. Readers should always do their own research.